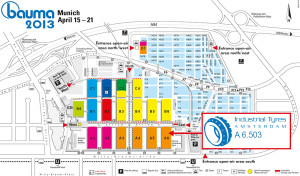 'NETWORKING, NETWORKING, NETWORKING'
Munich – "Once again it was a good day today. The many visitors who come to our stand, are very positive about the products we have. Obviously Tire Lifeand PSF do well, but also the TPMS system for large machines is popular.
Many find the TPMS system that we offer for large industrial machines very interesting because it indicates the temperature of the tires very easily. Of course, important for the cost and life of the tire. But also for the safety of employees.
The many tire manufacturers show great interest for Tire Life and PSF. We stand by our position in the middle of Hall 6 where the major tire stand. Just right so. It is voorla networks, networks and networking and I expect to get. Many positives things out here in the long term. Talk to you again tomorrow!"
BAUMA 2013 is launched. Marcel Willems, owner of Industrial Tyres Amsterdam, is present at the biggest international trade fair for the fist time. He represents the two maintenance products Tire Life and PSF. On this page he keeps you informed of his daily experiences.