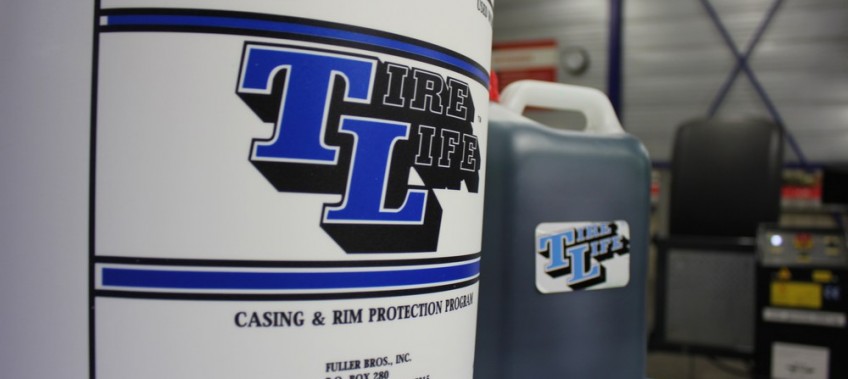 RAISE THE VITALITY OF YOUR TYRES WITH TIRE LIFE
Industrial Tyres Amsterdam is the new European distributer of Tire Life. Tire Life is a product in the industrial tyre industry that has many advantages. It is a liquid that protects rims and tyres; it is fully recyclable and enhances your safety on the road.
Tire life covers and protects the inside layer of tyres with a microscopic antioxidant. Because Tire Life makes sure the rim doesn't oxidise, the air retention stays in tact longer. Furthermore tyres are cooled better and the rubber stays supple. Tire Life tyres can be filled with air, which is cheaper and better for the environment than nitrogen purched tyres.

Positive reactions
Marcel Willems, General Manager of Industrial Tyres Amsterdam, has tested the product intensively throughout the last two years. "Users of Tire Life have given us a lot of positive feedback on the new product. Earthmoving tyres have to endure a lot, but we see that they last longer because of Tire Life. Because the beads of the tyres stay supple and the rims stay clean, the tyres are easy to dismantle. Recapers are very enthusiastic, because Tire Life keeps the inside of tyres as new and this makes it very easy to replace wheels."
References
For over fifteen years Tire Life has received positive reviews from a variety of tyre and rim manufacturers like Bridgestone and Continental. Bridgestone has concluded after research that Tire Life has no negative affect on tyres what so ever. Rim manufacturer Topy Industries says Tire Life helps to avoid corrosion on rims. After using Tire Life, the warranty is still guaranteed.
Sustainability
All environmental values are respected by Tire Life. Marcel Willems: "This product is very sustainable. Tyres last longer because of Tire Life and the wheels' tyre pressure keeps the resistance unimpaired. This prevents unnecessary co2 emissions. After replacing your tyres, Tire Life is also reusable."

PSF
Tire Life is used mostly in earthmoving and agricultural tyres. But that's not all Industrial Tyres distributes. PSF Plus is another product with many advantages. This anti leakage liquid protects tyres in heavy circumstances against gaps as large as ¼"in diameter.
About industrial
Industrail Tyres Amsterdam is an international, brand independent specialist selling earthmoving tyres and tyres for different industries. The company is situated in the harbour area ofAmsterdamand offers over 4000m2 of tyre related facilities. Industrial Tyres Amsterdam is the sole distributor of Tire Life and PSF Plus inWestern Europe. Industrial Tyres Amsterdam is part of JMB Beheer.