A protective layer that stops rust formation on the rims and protects the tire liners against wear.
Wat is Tire Life?
Tire Life is a slightly adhesive fluid that protects the tire and rim against premature wear and erosion. It significantly extends the lifespan of your industrial, OTR and earth-moving tires. The protective layer stops rust formation on the rims and protects the tire liners against wear. You save costs for refinishing rims because Tire Life removes rust flakes. It is fully recyclable and reduces CO2 emissions.
How does Tire Life work?
Tire Life forms a protective layer in the tire and on the rim. The layer reduces heat build-up in the tire, seals blisters and cracks in innerliners and protects the rim against rust and erosion. The fluid can be applied directly before installation, after which the fluid spreads into the air chambers of the tire or the fluid can be injected into the tire via the valve using a specially designed pump.
Tire Life improves the seal so that the tire maintains better pressure. O-rings, leaking valves, blisters/burrs, cracked inner liner or even peeling liners will be sealed by Tire Life. In addition, it is an excellent leak detector that makes cracks in the rim base visible.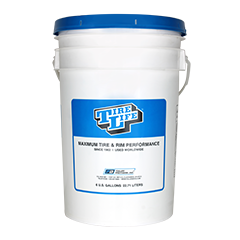 Tire Life is ideal for heavy vehicles that can also reach higher speeds. It is therefore often used in mobile cranes, tankers, wheel loaders and dump trucks. Continuity, less downtime and therefore a lower cost per operating hour is of the utmost importance to our customers.
Download brochure?
Download the brochure without obligation to read everything again.
Of course, you can always call or email us if you have any questions.
If you wish, we would be happy to call you, please complete the contact form.
Protected tire liners
Protected against rust and erosion
Recommended by A-brand
Maintain tire pressure
Lowers the total cost of ownership
Order Tire Life?
020 506 2249
You will find the most frequently asked questions here. If you have a question that is not listed, please contact us or request a product demonstration.
Is Tire life anti-puncture?
No, Tire life is not anti-puncture. Tire life is made for circumstances where the chance of flat tires is relatively low or in situations where the damage to tires is so great that Anti-puncture is less applicable. This includes port areas, mobile cranes and shovels in coal handling or machines at quarries.
Does Tire Life improve durability and safety?
Bridgestone, one of the largest tire manufacturers worldwide, conducted research into the effectiveness of Tire Life. They concluded that Tire Life can be widely recommended. Tire Life reduces operational tire temperatures by 7.5-19%.
What are the effects of Tire Life?
Protects tire liners against wear and tear and maintains the good condition of the tire liner
Protects wheels and rims against rust and erosion
Improves airtightness by sealing liner porosity and leaks
Seals blisters and cracks from worn inner liners
Improves the sealing of vulnerable areas
Reduces heat build-up in the tires
Why does Tire Life reduce costs?
Avoids premature maintenance and painting
Improves the repairability of the tire
Reduces labor times for disassembly
Reduces labor time for tire air checking.
How much Tire Life do I need?
Benefits noted when using Tirelife:
– Tire pressure remains more constant (less leakage)
– Belt temperature remains lower
– Less oxidation of rim at O-ring
– Reduced number of blowouts
Tirelife is highly recommended for all transport and crane companies."
Arjan Plomp – C&P Kraanverhuur BV