Immediate savings!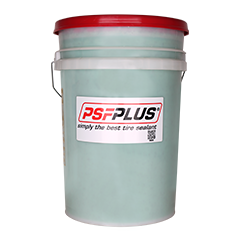 Are you looking for protection of your industrial tyres? PSF Plus is a liquid that protects the tyre against leakage. The patented mix of corrosion delaying elements, fibbers and polymers will keep the tyre at its right pressure and protects the rim against rust and wear and tear.
Benefits
Fills punctures and tears up to as much as 10 mm fast and easy
Extends the lifespan of the Tyre Liner
Keeps the tires under pressure
How does it work?
With the aid of a specially designed pump you inject the kit via the valve into the tyre. The liquid is applied directly to the tyre before assembly, after which the liquid distributes itself within 10 to 15 minutes into the air chambers of the tyre. Upon leakage PSF Plus converts the fibbers into a solidification that closes off the leak in the tyre and prevents leakages. PSF Plus is a safe solution that does not cause damage to the tyre and rim. The liquid is resistant against both extreme high and extreme low temperatures. With this liquid your tyres, inner liners, rims and radial tyre are well protected against corrosion. PSF Plus does not contain Ethylene Glycol, is water resistant and is supplied with a 100% money back guarantee.
HOW MUCH PSF PLUS IS NEEDED?
PSF
Contents: 6 US Gallons, 22,71 liters
Exclusive pump
Pump
Suitable for PSF and TireLife
Easy to operate
How does PSF Plus work
This picture shows how the tire drives over a sharp object and back. After this sharp object has gone out, the gap fills itself automatically with PSF Plus. This will prevent a leak and increases the life of the tire.